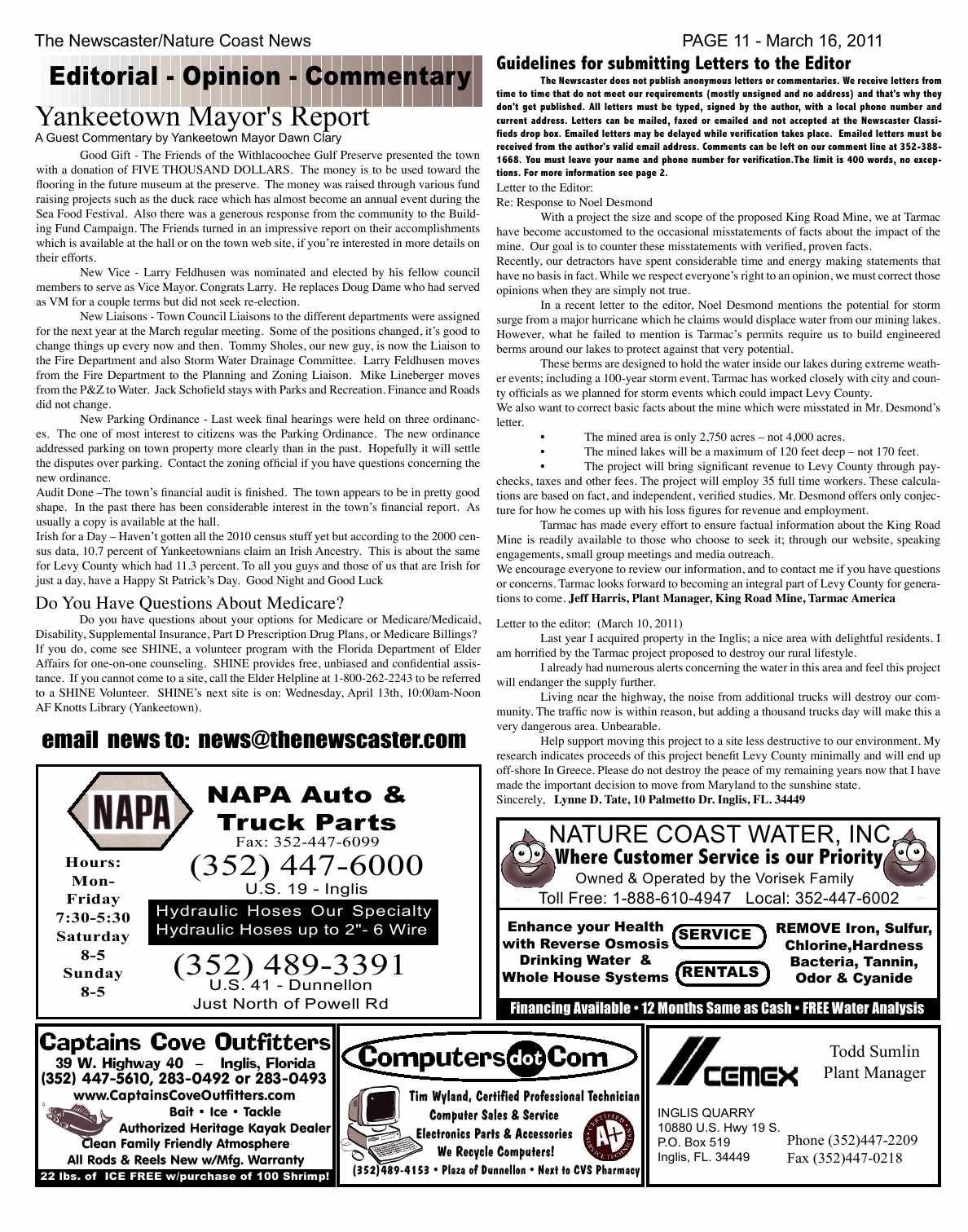 The Newscaster/Nature Coast News
Guidelines for submitting Letters to the Editor
Editorial - Opinion - Commentary
The Newscaster does not publish anonymous letters or commentaries. We receive letters from
time to time that do not meet our requirements (mostly unsigned and no address) and that's why they
Yankeetown Mayor's Report
don't get published. All letters must be typed, signed by the author, with a local phone number and
current address. Letters can be mailed, faxed or emailed and not accepted at the Newscaster Classi-
fieds drop box. Emailed letters may be delayed while verification takes place. Emailed letters must be
A Guest Commentary by Yankeetown Mayor Dawn Clary
received from the author's valid email address. Comments can be left on our comment line at 352-388-
Good Gift - The Friends of the Withlacoochee Gulf Preserve presented the town
1668. You must leave your name and phone number for verification.The limit is 400 words, no excep-
with a donation of FIVE THOUSAND DOLLARS. The money is to be used toward the
tions. For more information see page 2.
flooring in the future museum at the preserve. The money was raised through various fund
raising projects such as the duck race which has almost become an annual event during the
Re: Response to Noel Desmond
Sea Food Festival. Also there was a generous response from the community to the Build-
With a project the size and scope of the proposed King Road Mine, we at Tarmac
ing Fund Campaign. The Friends turned in an impressive report on their accomplishments
have become accustomed to the occasional misstatements of facts about the impact of the
which is available at the hall or on the town web site, if you're interested in more details on
mine. Our goal is to counter these misstatements with verified, proven facts.
Recently, our detractors have spent considerable time and energy making statements that
New Vice - Larry Feldhusen was nominated and elected by his fellow council
have no basis in fact. While we respect everyone's right to an opinion, we must correct those
members to serve as Vice Mayor. Congrats Larry. He replaces Doug Dame who had served
opinions when they are simply not true.
as VM for a couple terms but did not seek re-election.
In a recent letter to the editor, Noel Desmond mentions the potential for storm
New Liaisons - Town Council Liaisons to the different departments were assigned
surge from a major hurricane which he claims would displace water from our mining lakes.
for the next year at the March regular meeting. Some of the positions changed, it's good to
However, what he failed to mention is Tarmac's permits require us to build engineered
change things up every now and then. Tommy Sholes, our new guy, is now the Liaison to
berms around our lakes to protect against that very potential.
the Fire Department and also Storm Water Drainage Committee. Larry Feldhusen moves
These berms are designed to hold the water inside our lakes during extreme weath-
from the Fire Department to the Planning and Zoning Liaison. Mike Lineberger moves
er events; including a 100-year storm event. Tarmac has worked closely with city and coun-
from the P&Z to Water. Jack Schofield stays with Parks and Recreation. Finance and Roads
ty officials as we planned for storm events which could impact Levy County.
We also want to correct basic facts about the mine which were misstated in Mr. Desmond's
New Parking Ordinance - Last week final hearings were held on three ordinanc-
es. The one of most interest to citizens was the Parking Ordinance. The new ordinance
The mined area is only 2,750 acres – not 4,000 acres.
addressed parking on town property more clearly than in the past. Hopefully it will settle
The mined lakes will be a maximum of 120 feet deep – not 170 feet.
the disputes over parking. Contact the zoning official if you have questions concerning the
The project will bring significant revenue to Levy County through pay-
checks, taxes and other fees. The project will employ 35 full time workers. These calcula-
Audit Done –The town's financial audit is finished. The town appears to be in pretty good
tions are based on fact, and independent, verified studies. Mr. Desmond offers only conjec-
shape. In the past there has been considerable interest in the town's financial report. As
ture for how he comes up with his loss figures for revenue and employment.
usually a copy is available at the hall.
Tarmac has made every effort to ensure factual information about the King Road
Irish for a Day – Haven't gotten all the 2010 census stuff yet but according to the 2000 cen-
Mine is readily available to those who choose to seek it; through our website, speaking
sus data, 10.7 percent of Yankeetownians claim an Irish Ancestry. This is about the same
engagements, small group meetings and media outreach.
for Levy County which had 11.3 percent. To all you guys and those of us that are Irish for
We encourage everyone to review our information, and to contact me if you have questions
just a day, have a Happy St Patrick's Day. Good Night and Good Luck
or concerns. Tarmac looks forward to becoming an integral part of Levy County for genera-
Do You Have Questions About Medicare?
tions to come. Jeff Harris, Plant Manager, King Road Mine, Tarmac America
Do you have questions about your options for Medicare or Medicare/Medicaid,
Letter to the editor: (March 10, 2011)
Disability, Supplemental Insurance, Part D Prescription Drug Plans, or Medicare Billings?
Last year I acquired property in the Inglis; a nice area with delightful residents. I
If you do, come see SHINE, a volunteer program with the Florida Department of Elder
am horrified by the Tarmac project proposed to destroy our rural lifestyle.
Affairs for one-on-one counseling. SHINE provides free, unbiased and confidential assis-
I already had numerous alerts concerning the water in this area and feel this project
tance. If you cannot come to a site, call the Elder Helpline at 1-800-262-2243 to be referred
will endanger the supply further.
to a SHINE Volunteer. SHINE's next site is on: Wednesday, April 13th, 10:00am-Noon
Living near the highway, the noise from additional trucks will destroy our com-
AF Knotts Library (Yankeetown).
munity. The traffic now is within reason, but adding a thousand trucks day will make this a
very dangerous area. Unbearable.
w!
email news to: news@thenewscaster.com
Help support moving this project to a site less destructive to our environment. My
research indicates proceeds of this project benefit Levy County minimally and will end up
off-shore In Greece. Please do not destroy the peace of my remaining years now that I have
made the important decision to move from Maryland to the sunshine state.
Sincerely, Lynne D. Tate, 10 Palmetto Dr. Inglis, FL. 34449
Truck Parts
Where Customer Service is our Priority
Hours:
Owned & Operated by the Vorisek Family
Mon-
Toll Free: 1-888-610-4947 Local: 352-447-6002
Friday
Hydraulic Hoses Our Specialty
7:30-5:30
Enhance your Health
REMOVE Iron, Sulfur,
Hydraulic Hoses up to 2"- 6 Wire
SERVICE
Saturday
with Reverse Osmosis
Chlorine,Hardness
8-5
Drinking Water &
Bacteria, Tannin,
Whole House Systems
RENTALS
Sunday
Odor & Cyanide
8-5
Financing Available • 12 Months Same as Cash • FREE Water Analysis
39 W. Highway 40 - Inglis, Florida
(352) 447-5610, 283-0492 or 283-0493
www.CaptainsCoveOutfitters.com
Tim Wyland, Certified Professional Technician
Computer Sales & Service
Authorized Heritage Kayak Dealer
Electronics Parts & Accessories
Clean Family Friendly Atmosphere
We Recycle Computers!
All Rods & Reels New w/Mfg. Warranty
(352)489-4153
•
Plaza of Dunnellon
•
Next to CVS Pharmacy
22 lbs. of ICE FREE w/purchase of 100 Shrimp!