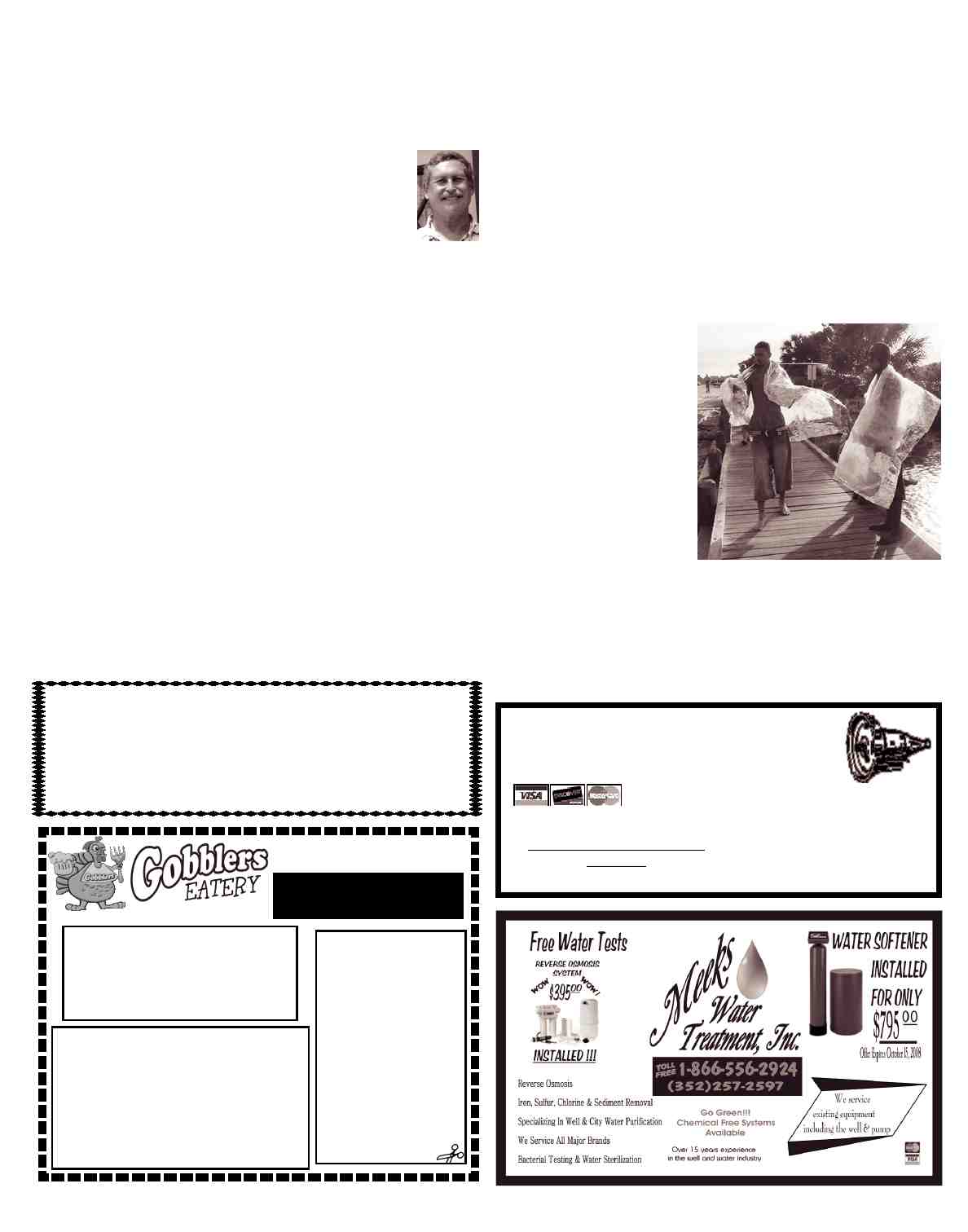 The Newscaster/Nature Coast News
Free stuff, and what is a FICO Score
A Guest Commentary by Darryl Diamond
las. You can get your FICO score from, from
The three major credit bureaus are
Experian, or from TransUnion. Don't worry,
By Sally Price, Newscaster Correspondent
Experian, Equifax, and Transunion. There are
I have been a licensed mort-
In the early morning hours Monday, a second car in as many weeks drove off the
many companies that will give credit reports
gage broker for over 17 years
boat ramp at the end of County Rd. 40 in Yankeetown. Christopher Hannah, 33, of Lakeland
that require you to sign up for some type of
and even I get confused some-
was the driver of the 2008 Chevrolet Cobalt Avis rental car. Ulyses Lata was the passenger.
service from them. However, since most of
times. But it boils down to this.
The pair were coming from Lakeland through New Port Richey headed to pick up
my readers love free stuff, I'm happy to in-
In order to boost your score
Ulyses' sister in Ocala. According to Hannah, approaching Inglis the SR 55 highway sign
form you that a free credit report from all
you can and should pay your
confused them and they turned left instead of right.
three bureaus is available on the web. You
bills on time, pay your rent on
As they traveled along in the dark, they said a parked boat trailer was almost out to
can use this to check if you have anyone us-
time, buy down large credit card balances,
the center line. Not knowing the area, they swerved and cut back on the wet road, trying to
ing your credit illegally, and I strongly sug-
and pay your car payment on time. Then make
figure out where they were. Hannah said there was an impact and water went over the car.
gest you get these reports about three months
sure you hire a professional mortgage bro-
Ulyses got out immediately but Hannah said there was about 10 inches of water from the
before applying for credit.
ker that has a lot of experience in the type of
roof as he scrambled over to the pas-
Check for any inaccurate informa-
tion, and you may want to have any mistakes
Get a "Good faith estimate" of clos-
corrected. If these reports show a lot of debt
ing costs given to you right up front when
Sheriff's Deputy Jack Mineo was just
in any area, you may want to buy them down
you get pre-qualified. Get the points, origi-
tying a hook to night fish when the car
so you can qualify for a higher amount of
nation fee, and interest rate in writing, and
ran right into the water. Mineo said the
mortgage which equates to a bigger home
double check these figures when you close.
2 were climbing up on the dock before
purchase. A "FICO SCORE" is a numerical
If you are still confused give me a call, and I
he could get down to them. Mineo said
assessment of credit worthiness which was
will be happy to assist you in getting a loan
Risher's Garage was called at 3:30 AM
developed by the Fair Isaac company who is
for towing. FHP Troopers Glen Ganus
recognized as starting credit scoring in 1958.
Darryl and Vicki Diamond and the en-
responded first and after daylight
There are several FICO scores
tire "Diamond Team" have the many years of
Trooper John E Gikas took over the
presently being used. There is FICO 98,
experience required to handle all of your
FICO 2004, Industry option fico, NextGen
professional real estate needs. Please call
Yankeetown Volunteer Fire
fico score, FICO Expansion, and finally
Diamond Investments Inc. anytime at 352-
Rescue was on scene and gave the 2 men
some lenders use their own custom formu-
447-4442. I'll see you around "The Campus".
wraps to take off the chill. Several hours
Runaway
- Continued from page 1
were spent waiting on Lt. Scott Finnen,
Levy County Sheriff Office diver to ar-
Crystal River High School; however, she has not been attending.
rive and get the car out of the water. The Christopher Hannah (right) was the driver Mon-
The teen is considered to be a habitual runaway. Her information has been entered into
delay was a problem with hooking to the day morning with passenger Ulyses Lata. Both sur-
the national data base for missing persons.
new car and 2 large hooks bent in the vived the ordeal even if the Chevy does not.
According to her family, Emily may be in Levy County somewhere north of Inglis. Cit-
process. Finnen had to hook the car to the post in the center of the ramp to get it lose and up.
rus detectives have notified officials there of her missing status. A BOLO (be on the look-
LCSO investigator Joe Barrera also responded to back up Finnen. Taking the jokes
out) for the teen also has been issued in Citrus, listing her as a runaway.
in stride, Hannah called the diver "frog man" and his car a "Boatswagen", not much else he
Anyone with information about Emily Anne Busby or her whereabouts is asked to call
could do under the circumstances. I gave a ride to the two stranded men to the sisters in
911 or 352-726-1121 right away.
Ocala and they have a story they can tell about a road that is called "Follow That Dream". Not
New! Local Videos on www.thenewscaster.com
R&M
AUTOMATIC TRANSMISSIONS
Now Playing: Dunnellon Antique Car Show
Rebuilt - Repaired - Resealed
Inglis Freedom Festival 2008
A/C - Brakes - Front End - Exhaust - TuneUps
"Dr. GEM" - Tips on selling gold for cash
Angela "Bunny" Adams-Maintaining Good Credit
Oil Changes While You Wait
4X4ís - RVís - Trucks - Autos
Free Estimates
352-447-0704
14 u.s. 19 N. (S.R. 55)• Inglis, FL
Visa - Mastercard - Discover
Accepted
Fax Line 447-6040
Sunday-Thursday • 5:00 am-9:00 pm
Friday & Saturday • 5:00 am-10:00 pm
Home of the Deep Fried Turkey
JOIN US FOR WEDNESDAY STEAK NIGHT
Grilled NY Strip or Delmonico Steak
Served with Red Bliss Potatoes
& Fresh Corn-on-the-Cob
Your Choice of
$11.95
Pork Steak, Liver &
Onions, Country Fried
ALL-YOU-CAN-EAT MEAL SPECIALS
Steak, Beef Tips, or
MONDAY Fried Mullet $9.99 • BBQ'd Pork $8.99
Open Face Turkey Dinner
TUESDAY Fried Shrimp or Shrimp Scampi $9.99
with Potato & Vegetable
WEDNESDAY Fried Oysters $11.99
or 2-Piece Fried Mullet
THURSDAY Spaghetti with Meatballs $6.99
with Cheese Grits
FRIDAY Fried Fish $7.99
SATURDAY Chicken Wings $8.99
SUNDAY Beef Tips over Noodles or Rice $9.99